The New Glenside Hospital Campus. (Original Article ' Australian Construction  Major project Review 2013 pages 224-227″  www.ancr.com.au)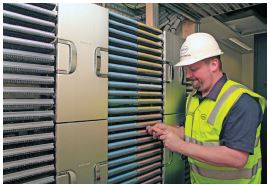 The new Glenside Hospital Campus In South Australia is a perfect example of the fourth utility principle. The  hospital  structured  cabling  system  is  a technology superhighway encompassing thestaff administration computing network, staff administration POE WAP network, NEC  VoIP  POE  telephone  & voice services network, BMS network, Security network devices including secure Access and entry solution, IP intercom network, patient tracking, staff positioning information, nurse call, paging system, Vesda fires System, CCTV across the entire site, and the latest piece in the puzzle the IP television solution by Hills Exterity.
BJM have delivered Hansen and Yunken a state of the art Commscope SYSTIMAX cabling solution to hand over to the South Australian health department that primarily has a Category 6A cabling solution in the horizontal and a single mode fibre optic backbone.
The horizontal information outlets have been installed from strategic communication room locations specified by Adelaide consulting firm Bestec to ensure that every campus end point can be reached within the 90.0m maximum required to achieve the industry defined standards. No more than 20 meters of  cable is needed to connect any part of a work area to the nearest Consolidation Point (CP), making it fast to deploy new systems and reconfigure or upgrade in the future.
The foundation is the Commscope SYSTIMAX VisiPatch 360 system. VisiPatch 360 is IDC- based and allows a user to deploy traditional IP (four-pair) applications or extra-low-voltage applications (some less than four-pair) on the same platform. VisiPatch 360 also lends itself very well to a zone-wiring architecture, where consolidation points can be used to provide easy access to connections within a zone.
The entire site has been covered by a network of fully populated Visipatch 360, 32 port consolidation frames back to the secondary nodes. The site also has full redundancy featuring two primary node communications rooms at opposing ends of the campus, linked to each other with multiple 24 and 6 core single mode fibre optic cables for high-speed backbone uplinks. The rooms are then both connected to  every  secondary  node  on  the  campus with a 24 core single mode fiber optic cable to complete  the  redundancy  mesh.
Every communications room including primary and secondary rooms is served by a UPS power supply that is then supported by a generator back-up system. Each UPS system is also monitored on the master network to detect any fluctuations or drop out of supplies and manage the problem until staff can attend following a self-generated fault alarm.
This ensures all mission critical systems and devices will be maintained 24/7 including standard low voltage powered devices to state of the art POE devices.
The fourth utility is encompassing every electronic service of  the campus environment and delivery high quality connections that allow for reliable operation and functions.
BJM Engineering Services are amongst the best in Adelaide and Australia in delivering high quality and high performance Network and system infrastructure that will ensure customer needs are met and exceeded to allow migration to the next generation of equipment.