The Wingfold Tower Project 2020


The Wingfold Tower is a new and exciting 28-level tower complex located in Adelaide's vibrant Waymouth Street precinct.
Wingfold Tower has a unique mix of residential accommodation, restaurants and café tenancies, topped off
with a communal roof garden with panoramic views of hills and Adelaide's beautiful coastal areas.
In partnership with NEXON Networks, BJM helped design, implement and rollout the NBN connection solution for the Wingfold Tower.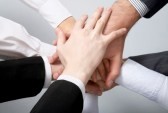 BJM choose world leading cabling solution NETCONNECT from CommScope certified for 20 years to meet NEXON NBN design needs.
At CommScope "Now meets next" thinking push's the boundaries of communications technology to create the world's most advanced networks. Across the globe, CommScope solutions are redefining connectivity, solving today's challenges and driving the innovation that will meet the needs of what's next.
NETCONNECT's solution enables delivery of fast, reliable NBN services to each residential room/apartment, common area and corporate areas.
The backbone foundation is CommScope NETCONNECT Single mode fibre from a main building core communication cabinet to each of the 26 floor distributor cabinets.
FORTINET network hardware is deployed throughout the network design to achieve NEXON scalable NBN delivery to each user.
From each floor distributor CommScope NETCONNECT category 6a cabling is reticulated to common area FORTINET Access Points and accommodation rooms/apartments which offer wireless and physical connection points
CommScope NETCONNECT cabling is terminated to 24 port patch panels at the floor distributor.