IT systems and communications lay at the very heart of today's organisations.
BJM Tele-Comms provides the infrastructure that underpins these powerful systems solutions with the resilience to perform now and for the future of your enterprise. We can provide virtually everything you need to support your critical IT applications.
We provide structured cabling services to corporate organizations of all sizes and disciplines.
Our structured cabling services include the design and implementation of the following services and cabling systems standards;
Design & Construct Consultation
Voice & Data Relocations
Wireless Network Connectivity
Fibre Optic Back Bone Links
Coax cable install
MATV
Cat 5e UTP Cabling
Cat 6 UTP Cabling
Cat 6a UTP Cabling
Cat 7 STP Cabling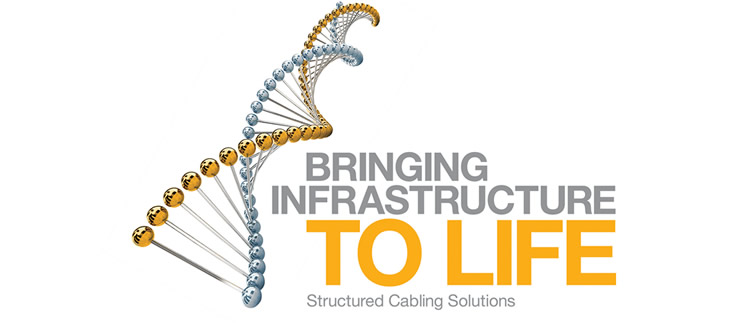 Our data cabling system offerings are from leading manufacturers such as
Commscope Systimax,
TE connectivity (formally AMP & ADC KRONE),
Molex
Clipsal.
As certified and trained structured cabling system installers, we are able to offer manufacturer backed warranties of up to 20 years.
All installations are performed by our trained, qualified and highly experienced network cabling design consultants, project managers and data cabling installation engineers.
---
Category 5e – Structured Data Cabling
Cat 5e cable is an enhanced version of Cat 5 that adds specifications for far end crosstalk. It was formally defined in 2001 as the TIA/EIA-568-B standard, which no longer recognizes the original Cat 5 specification. Although 1000BASE-T was designed for use with Cat 5 cable, the tighter specifications associated with Cat 5e cable and connectors make it an excellent choice for use with 1000BASE-T. Despite the stricter performance specifications, Cat 5e cable does not enable longer cable distances for Ethernet networks: cables are still limited to a maximum of 100 m (328 ft) in length (normal practice is to limit fixed ("horizontal") cables to 90 m to allow for up to 5 m of patch cable at each end, this comes to a total of the previous mentioned 100m maximum..
Category 6 – Structured Data Cabling
Commonly referred to as Cat 6, it is a cable standard for Gigabit Ethernet and other network protocols that is backward compatible with the Category 5/5e and Category 3 cable standards. Cat 6 features more stringent specifications for crosstalk and system noise. The cable standard provides performance of up to 250 MHz and is suitable for 10BASE-T / 100BASE-TX and 1000BASE-T / 1000BASE-TX (Gigabit Ethernet). It is expected to suit the 10GBASE-T (10Gigabit Ethernet) standard, although with limitations on length if unshielded Cat 6 cable is used. Category 6 cables can be identified by the printing on the side of the cable sheath.
---
Cat 6a – Structured Data Cabling
The latest standard from the TIA for enhanced performance standards for twisted pair cable systems was defined in February 2008 in ANSI/TIA/EIA-568-B.2-10. The global cabling standard ISO/IEC 11801 has been extended by the addition of amendment 2
Category 6a (or Augmented Category 6) operates at frequencies up to 500 MHz—twice that of Cat 6.
Cat6a can support 10 Gbit/s applications (especially 10GBaseT) up to a maximum distance of 100 meters (330 ft) with improved specifications, particularly in the area of Alien Cross-talk (AXT).
---
Category 7 – Structured Data Cabling
(Cat 7), (ISO/IEC 11801:2002 category 7/class F), is a cable standard for Ethernet and other interconnect technologies that can be made to be backwards compatible with traditional Cat 5 and Cat 6 Ethernet cable. Cat 7 features even more strict specifications for crosstalk and system noise than Cat 6. To achieve this, shielding has been added for individual wire pairs and the cable as a whole. The Cat 7 cable standard has been created to allow 10 Gigabit Ethernet over 100 m of copper cabling (also, 10-Gbit/s Ethernet now is typically run on Cat 6a). The cable contains four twisted copper wire pairs, just like the earlier standards connectors. Category 7 cable is rated for transmission frequencies of up to 600 MHz.